With Christmas all around us, this week I am featuring some wonderful guest posters who will share about their personal Christmas stories and how they each observe the season. Please welcome Zoe!  This is what she says about herself:
Hi! I'm Zoe, young wife and mummy to toddler Phoebe and baby Simeon, living village life in Oxfordshire in the UK. Jesus, my family, words and creativity are my passions, and I write about these things over at Zoeprose. Feel free to pop by and say hello! http://zoeprose.com/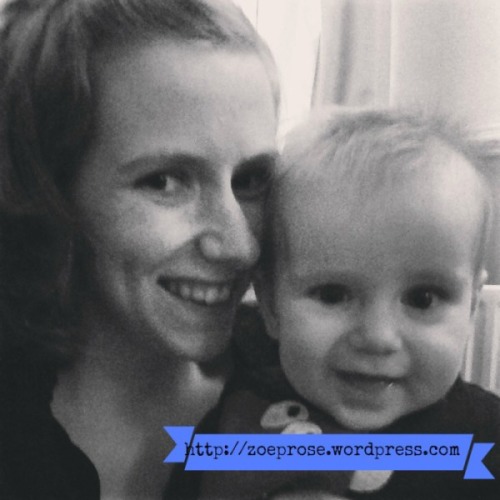 The build-up to Christmas Day is my favourite part of December- we usually go to candle-lit Carol services at our church, do some absorbing of the seasonal atmosphere in the Christmas markets and of course, decorate the house. As a young family, we are still in the process of figuring out our family traditions and working out which things from each side of the family to incorporate and change into our own. What started as a little Christmas tree on our first Christmas together after three months of marriage and some wonky salt dough decorations, has become a fun tradition of putting up the tree at the beginning of December, filling vases with baubles and hanging our felt advent calendar. Often we have little pocket decorations on the tree to hide chocolate treats in, or we hang Cadbury's Christmas tree chocolates off the boughs. I find it's really easy to forget in the hustle and bustle, the reason for the gift buying- the real gift that God gave us at Christmas, in Jesus. So we've got lots of purposeful decorations as well as the usual baubles and tinsel, with little hanging advent figures on the tree and angels.
"…the real gift that God gave us at Christmas, is Jesus."
An avid Christmas lover, I play old cassette tapes of Christmas tunes and carols all month, as well as my more recent additions. The familiar songs I heard as a child evoke so much excitement and joy about the coming day, and I really struggle to wait past 1st December to decorate. There is something about having a Christmas tree in the corner of the room that fills my heart with gladness! This year I am excited to do some Christmas baking with our little girl. She's not yet three but loves to bake, like her mumma. At my in-law's house the days before Christmas seem to be full with Christmas baking- mince pies, sausage rolls, making marzipan fruits and trifles. When we have had Christmas at our house, some of these things have started coming with us, as we have learnt how to do them ourselves, and adopted traditions of our own.
Christmas Eve is for welcoming family or recovering from our own drive to be with parents, hiding away to wrap the last few presents, playing games, preparing food for the day. Christmas morning comes, and something on the end of the bed has shifted- joy has come in the night while we were sleeping. Stockings which were pretty, but flat and lifeless the night before have been filled, and we take the first moments of the morning to open them and discover the treats inside. Chocolate coins, chocolate Santas and perhaps a Terry's chocolate orange are usually familiar items, other trinkets, pens, socks and toys for the little ones often fill the rest of the space. Bouncing on our parents' bed to show them the things Father Christmas had brought was always next as a child- now I am beginning to share that delight with my toddler, who will be having her third Christmas, and now her little brother too.
Eating Christmas dinner evokes lots of memories for me. Brussel sprouts remind me of my Grandpa, who used to mask the taste with gravy (I concur on this point!) and the years we spent around their dining room table. Roast potatoes have been a bone of contention between my husband and I since our families cook ours in different ways- his family par-boil and cook little ones, mine go for larger ones, cooked under the juicy turkey. I have learnt from my mum how to make chestnut and sausage meat stuffing–always fought over and a favourite of my brother's. There are often trimmings to go around these things- bread sauce, gravy, other veg like carrots, cabbage, roasted parsnips and sometimes gammon. Pudding growing up for me was always raspberry pavlova as the majority of my family didn't eat the dessert of choice in England, Christmas pudding. Other options over previous years have involved mince pies, Christmas cake, yule log, trifle and cheese boards!
Christmas presents wrapped have also appeared, or multiplied overnight beneath the tree, anticipated but always much better than we could have imagined. After our dinner, coffee and chocolates, we take it in turns to give presents to one another. Often one person sits by the tree to deliver gifts to each person. The feeling of picking up pretty packages, not knowing what's inside- knowing it will be something special for the person on the label but not knowing what- is such a nice shared part of Christmas. That we all get to experience the joy of giving and receiving at one time on one day is really unique to this day. Once the present-giving has been done, the quiet, or loudness of the afternoon descends. We watch the Queen's Speech, perhaps play a board-game, watch some Christmas television or read our new books, entertain ourselves with our new presents. I like that kind of content quiet, the peace that falls from time well spent celebrating together.
Out of all of these things, the presents, decorations, the food and the family, my favourite thing has to be the atmosphere of anticipation surrounding Christmas. For a month prior to the event, we are busy preparing, shopping, thinking about the day which is coming. Readying our minds and homes to share laughter, love, good food and memories. Sometimes I have felt that the day itself could be a bit of a let-down after so much anticipation, that it could never be perfect enough to live up to the excitement and build-up. But then I remember that the real reason is not readying ourselves to get more stuff, or eat more food, or even to see everyone we love, but to celebrate the greatest gift ever. That we are anticipating the arrival of a tiny baby, a perfect human, God with us. To remember the best present we ever got, from the person who loves us the most- is truly the best thing about Christmas.