Our beabrador Lillie came to us in July 2008 as a tiny pup and immediately stole our hearts. She left us peacefully and like the lady she was on January 30, 2016 and we will never be the same. You can see her sweetly napping a few weeks ago in the featured picture in her favorite napping spot.
Grief. The word is looming, scary, nobody wants anything to do with it. We fear it.
My family is in the midst of grief. We said goodbye yesterday to a dear and faithful friend, our dog Lillie. She'd been with us for nearly 8 years, since she was just a tiny puppy. We're her only people. If folks have never had pets or never had one that's become like family, they won't understand what I'm saying and I respect that.
But if you've had pets whom you adore, this will resonate with you. There's this thing about dogs. They melt when you scratch their tummies. They want to snuggle up to you like a little baby and snore in your face. But in a heartbeat, they'd come between you and anything that poses a threat, willing to sacrifice their very lives for your safety.
There's a reason we love our pets so much: They're faithful. They may poop on the floor sometimes, but they never fail us. They fight for us. They don't gossip about us. They are loyal, no matter what. They don't lie to us. They don't lie about us. They never betray us.  They keep our secrets. Their whole lives are about us. For most pets, we are their world. They are completely and undeniably dedicated to us and only us.
Our Lillie was just that way. She has stepped between us and a threat. She's melted for tummy rubs. She has snuggled up. She's left such an imprint on our lives that now that she's gone, we can't seem to get our collective selves together because we miss her so dearly. We are grieving her.
Lillie was always healthy. In fact, I've never had an unhealthy dog. But when Lillie started showing symptoms of sickness, she was already very sick.  "Dogs hide it very well," our veterinarian told us. This put us at a disadvantage right away because we were fighting an uphill battle. She had three major illnesses, one that caused the next and the next. Any one of them could have taken the life of a human, much less a beautiful dog. She fought hard and so did we. Animal hospital, IV's at home, meds, special foods, insulin, love, encouragement, begging and pleading (with her and God).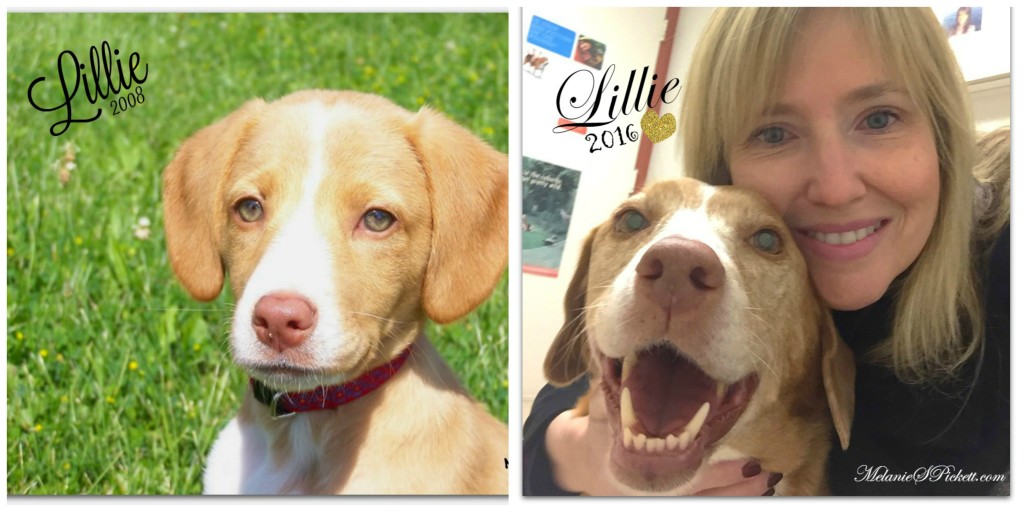 Please get better. Please let her stay. 
Then the uphill battle became a losing one and she let us know "enough."
Saying goodbye was agonizing. Just the mere thought of having to was almost more than I could bear. She had been through things with me you probably can't imagine. She's licked away our tears, warmed our feet, and definitely embedded herself in our hearts. She wasn't a pet. She was a friend, a family member. She slept in our beds, bathed in our tub, rode in our cars.
It's no secret that we didn't have Lillie. Lillie had us.  As a writer, it's therapeutic for me to honor her in writing and memorialize her until we meet again. She was the best of the best and deserved nothing less.
I have so many friends grieving now. Many have very recently lost beloved pets. Some have lost humans. Still others are facing impending losses. There's more than enough pain to go around.
How do we handle grief? The only way I know how is together. We hold each other up when we're too hurting to stand. We wipe each other's tears. We listen. We know that however the person needs to grieve and for whatever length of time is exactly right. We all deal differently and on different timetables. We know that grief is handled but it never ends because that loved one is still gone. The deep ache lessens but the pangs remain. And together is how we ride out the waves of grief as they come. And they will come.
Hold each other close. Weep together. But laugh together and remember. For it's in the remembering that the loved one lives.
Praying for Peace,