Can you believe it's the end of 2016 already? As I thumb through my social media feeds I notice so many folks have endured such pain this year, in one way or another. Not to mention the recent loss of beloved celebrities and an exhausting election year. The theme is a resounding "we can't wait for 2017!"
But as we look forward to a new, clean year, I find it personally helpful to also reflect.
I like to engage in a personal inventory of the past year.  How are my relationships? What'd I learn in 2016? How far have I come?
In my writing world specifically, I've grown. I work for an online magazine now and that's something I didn't even strive for. I dreamt of it but didn't really ever see it happening. Then the opportunity came from a sweet friend who recommended me. And here I am, working for a wonderful magazine and doing celebrity interviews.
I've grown my social media following, something that was a goal for the year because I need those numbers to help me when I reach out to get my book published.
In my personal life, I don't see that my health has changed much. The Crohn's is a little worse right now than months ago, but I'll roll with it. I've began working out as much as my body allows because I want to fight back this beast that is autoimmune disease. It's not going to win. But I will.
My closest personal relationships have grown all the closer this year. I'm completely blessed by that. My children and I remain close and have bonded in new ways with each year as they grow up. I find my marriage stronger than ever. We've had some bumps (not in our marriage itself, but things we've had to tackle together) and we have a rich partnership and a united front. We handle things together and build each other up.
A huge milestone this year was my sweet daughter graduating from high school and moving into her college dorm. That was fun and then really, really hard. I am blessed by my relationship with her and words can't describe how thankful I am that we are as close as we've ever been and that she keeps in touch daily. (Oh my gosh, let me tell you how good that is for my soul!) We are absorbed in pride over her (very) successful completion of her first college semester.
My baby boy is officially towering over me now. He's a working man too and has become a champion money saver. He worked this summer and carefully planned his finances and what he was saving for. He's a videographer with his own YouTube channel and blog, and still has the quickest wit ever (and awesome grades!)
My best friend and I met Rick Springfield this summer. What's the big deal, you may wonder? Well, we've been trying to make this happen for oh, about 35 years (just 35). It. Was. A. Blast. Let's just say we have every volunteer at the concert venue running a fun-spirited sting and rooting for us to bring this dream to fruition.
A notable time for my blog was when I shared my abuse story with you. In a three-part series I described in painful detail how I came to "give birth" to this blog, and the life experiences that led me to understand pain and change in a way I hadn't previously. This is the story of how I came to want so desperately to help anyone who's lived a similar life.
Now that we're right next door to 2017, I've been thinking about my "word for the year." Have you seen posts about that on Facebook or other blogs? If not, let me explain. People feel led to have a word for their upcoming year. It might be "forgiveness" or "adventure" or "rest." It's a totally personal thing, whatever word you feel is for you, that's kind of your theme and guide for the new year.
Last year, the word "expectant" kept coming to mind: live with expectation that wonderful things are coming. And wonderful things did come. I already mentioned a bunch. That's not to say we skipped gleefully along all year without a concern in the world. Sure, we've had struggles. But I was on the lookout for the good stuff. And it came.
I'm a worrier. Lawsy, I worry. It's something I've battled for most of my life. If there's a worry gene, I inherited it from my dear mom. I think worry attaches itself to you based on life experiences. I've worried as long as I can remember, but I felt the worry get worse when my mom passed away when I was 26. Part of my security went with her.
Then my dad passed away when I was 34 and the rug really flew right out from under me. I think it has something to do with feeling your parents will be the only ones who will always have your back. You know that no matter what happens, they will be there. Then they're not and it's a terrible shock. And you feel alone. (You should be able to rest in the security that your spouse will always have your back, but during that time, I didn't have a spouse I could count on like that. Hence, the exacerbation of fret and worry).
Worry is something I fight pretty much daily and I know that worry does nothing except make me sick. And distract me. And makes me lose sleep, get anxious, not eat, and ruminate.
The word that keeps coming to me for the new year is Surrender.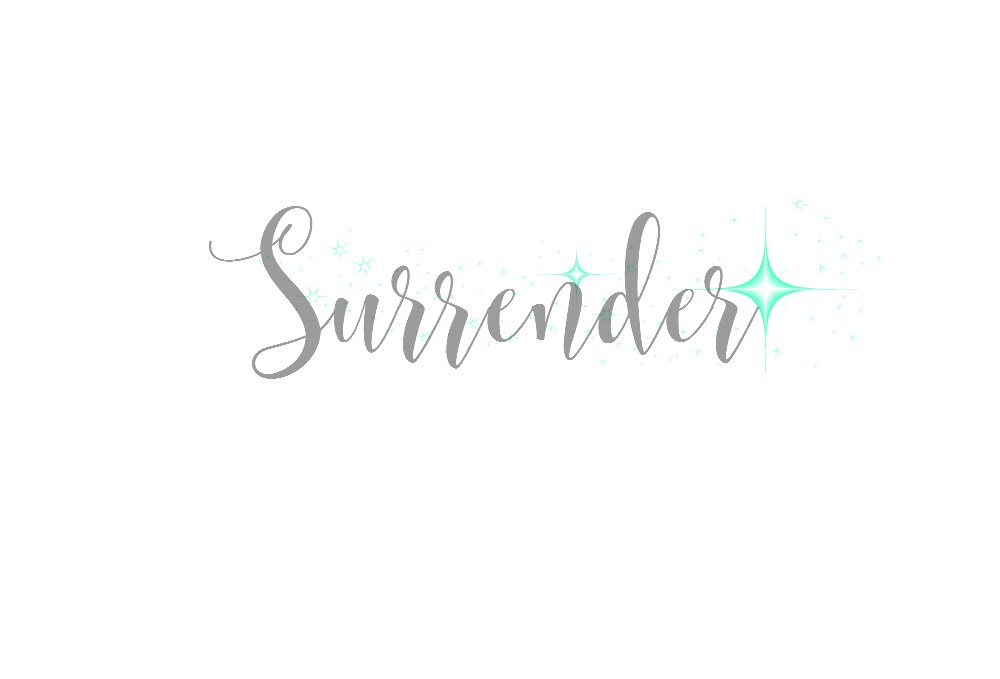 Surrender all the gobbledygook, the muck that holds me back, keeps me awake at night, ties my stomach in knots.
Surrender the relationships that aren't my responsibility to fix.
Surrender situations I have no control over.
I'm not going to stop getting in my own way. I'm giving in to the good stuff.  I'm going to surrender all the junk and step forward in greater boldness.
It doesn't mean I do nothing, take no action, and avoid all responsibility. It means I stop trying to control stuff and stop giving crappy situations more of me than they deserve. And it means that, as a Christian, I will trust God instead of worrying about everything. I only have control over so much and I don't have control over others, so I have to give those situations and concerns over to him to figure out because I just can't.
I'm going to surrender my writing life too and see where it takes me. In surrendering to it, I'm not giving up, I'm stepping out. I'm going to submit to places I wouldn't have dreamt of previously. If I get a 'no', so what? What if I get a yes? I have to at the very least get out there and try.
Tell me, what's your word (if you chose one) for 2017? What are your hopes and dreams for the new year? To be debt free? Heal a relationship? Tighten and tone? Start a new career? Have a baby? There are a million possibilities! We have every reason to be hopeful and excited for the adventure that awaits us!
Cheers to a happy, healthy, successful 2017!