I've been on vacation in Rome and Paris and I've not blogged in two solid weeks. It felt strange but necessary. My daughter and I were blessed to be able to go on a European adventure. I'm finally a legitimate Flying Blonde! I have lots to tell about our journey, but since I'm dipping my feet back into the blogging pond for the first time in two weeks and I'm still recovering from miles (and miles and miles) of rigorous walking and a million steps (I'm barely exaggerating!), I thought my first piece post vacation should be a fun one.
I like shopping. I'm not afraid to admit it. It's always fun and refreshing to buy something new, even if it's an inexpensive lip gloss. But when you are literally shopping in a new world, it's downright exhilarating.  We discovered that shopping in Rome is amazing. We were like children running around from one adorable shop to another.
To be able to shop amidst such treasured ancient history is an added blessing. We literally shopped for souvenirs mere feet from the Trevi Fountain.
There were fashions and makeup that were different than what we're used to, especially the clothing. We concluded that Italians have the best fashion sense and that we must return on a yearly basis to do school shopping. (Girls can dream!)
For fun, I wanted to share some of our finds. I like to see what others purchase, the cool and different things they discover, so I thought you might like that as well. This is not a means of bragging or showing off. That's definitely never my style.
But these items, they are my style so let me share the goodies with you.
First, the scarves…they were beautiful! I think we bought five and I justified it because we could share them, I reasoned.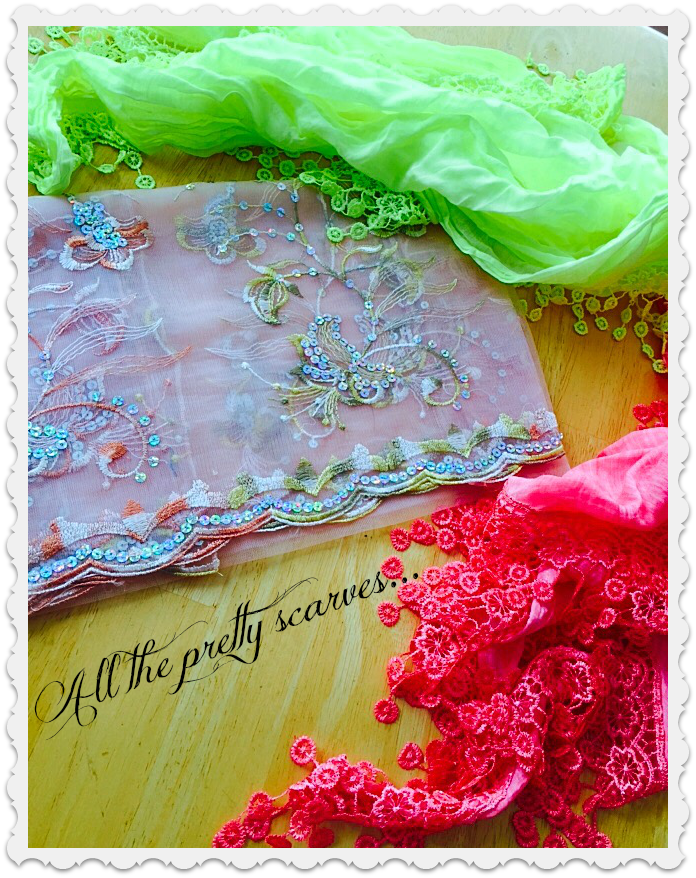 They had different shirts than I'm used to seeing. Lacy shirts seemed quite popular and it was easy to see why. They were beautiful. The Italian silk was quite a lovely departure from what we've worn in the past. My daughter purchased this adorable dress with gray pearls and a cloth belt.  We bought some baubles, leather bracelets for my son, and my daughter sweetly gave me a pretty blue glass necklace and purple crystal bracelet. The cosmetics were different as well and the prices were much better than you'd think! Thankfully, I think we may be able to order refills of our cosmetic choices online. You know the pain of finding that perfect lip gloss or foundation that works so well for you and not being able to replenish it!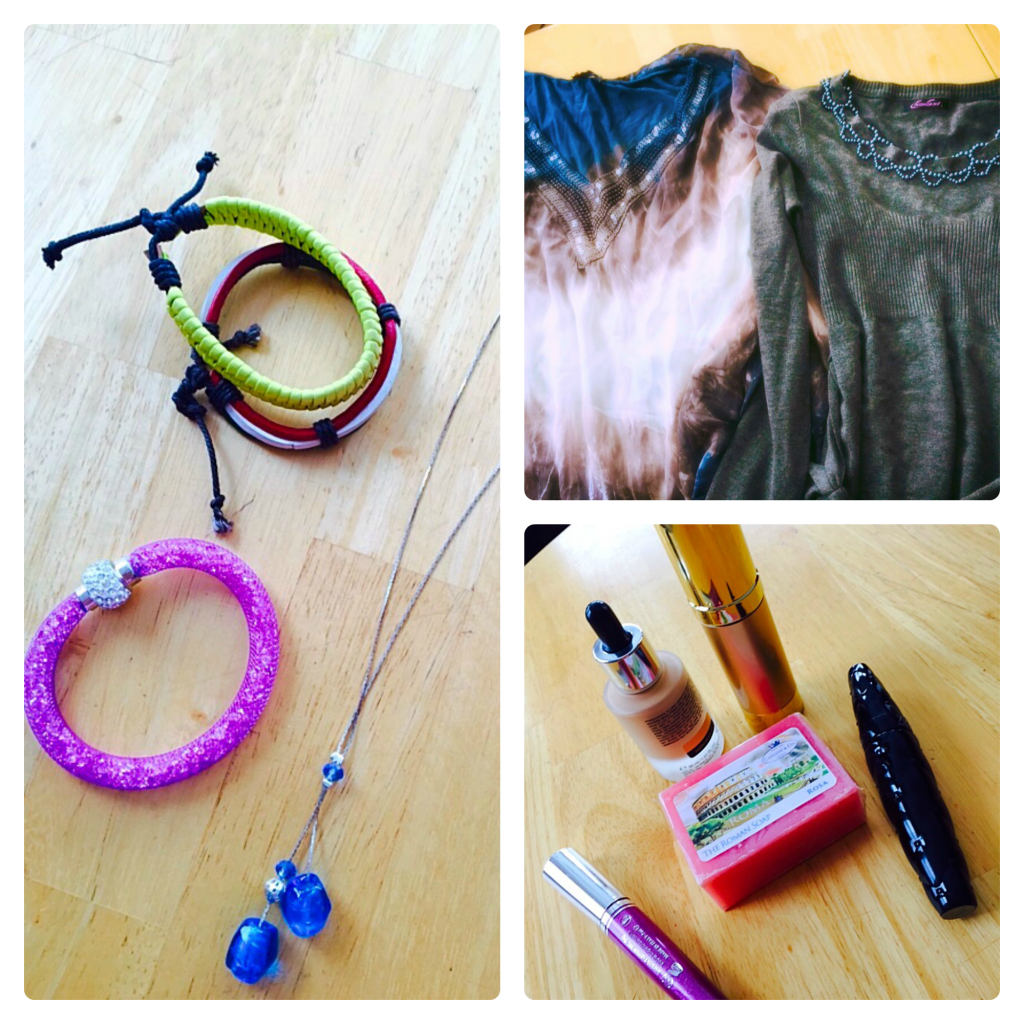 I saved one of the best details for last…shoes and purses. Shoes are of course a very different size system in Europe. Instead of your size 7s or 9s, they have 39, 49, and some numbers in between. This we gleaned when shoe shopping and trying to use our best Italian words to figure it out. Success allowed me to purchase a cute pair of flats, something very en vogue in Paris (oo la la!) for ten euros (which is roughly $11) so that's a bargain no matter where you are. Purses weren't cheap. They were fine Italian leather and made right there in Italy. This was a rare treat and we splurged a bit in that area. After all, how often are we going to be in Rome? It's okay to spend a little more to get a quality piece that you'll be able to use for a long time to come. Buying a purse was our treat to ourselves. We worked hard to be able to go on this adventure and it was a lovely moment with my daughter to see her be able to make her own special purchase.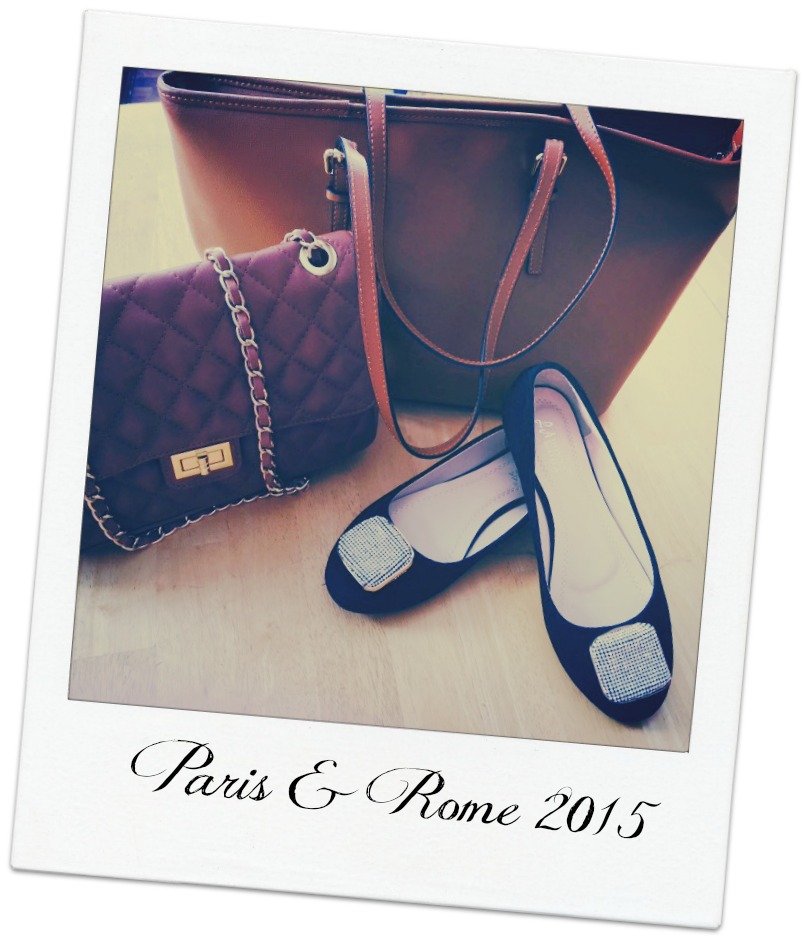 This trip wasn't about the shopping, of course. The shopping was a fun and adventurous perk to the many gorgeous sites we visited and learned about. And really, the most important part of this trip was that I spent it with my daughter. We took our first plane rides together. We traveled abroad for the first time together. We got our first stamps on our passports together. We will forever have this special bonding time of adventure and I hope I impressed upon her the importance of adventure and believing in your dreams. They can come true. They will come true.  Rome was very smooth. We felt at home and it was an easy fit. We fell in love with the people and the city and it had almost nothing to do with the shopping.