Have you ever heard of a praise challenge? Do you pray for your children?  I'm sure you must. Most days, I start my morning in prayer and my children are always at the top of my prayer list. I lead a group of praying moms during the school year and we gather weekly to pray for a solid hour in thanksgiving, praise, and requests for our children, schools, and staff.  Prayer is so important. Perhaps most important is prayer for our children. They face significant struggles these days. Growing up, I believe, is more challenging than ever and our children face obstacles we never even considered, especially with the dawn of the internet.
In the book "The 30 Day Praise Challenge for Parents" by Becky Harling, the author offers a unique routine for prayer and praise. For 30 days, Becky divides your praise and prayer time into four categories: Invitation which includes a devotional; Listen which is comprised of specific suggested praise music to listen to; Pray which is exactly as it suggests, a prayer you can read aloud or in silence, inserting your children's names into the prayers; and Journal, an activity to journal about your child.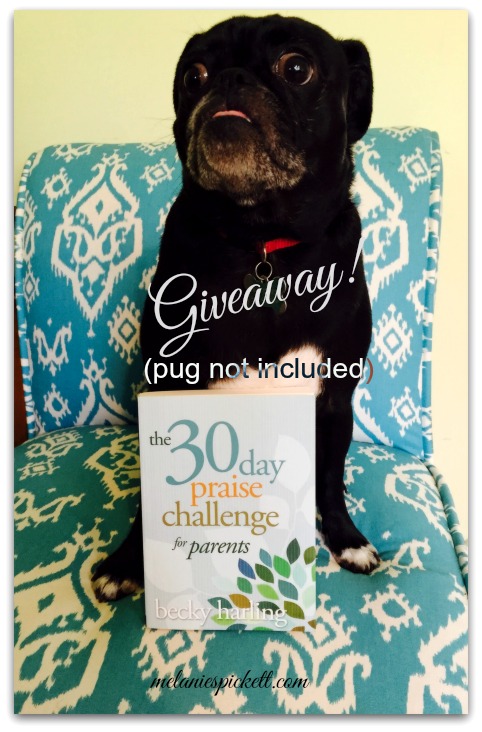 This would be excellent to do alone, with a spouse or even a friend to power pray for your children. I really enjoyed this book and would like to offer a new copy to you as a giveaway so you too can benefit from this prayer experience! Please enter the giveaway below, tell your friends, and make sure to return every day for new entries. The fortunate winner will be announced the morning of Monday, June 29, 2015 so enter often between now and Sunday night! This book is so different from any other prayer book I've encountered and I encourage you to grab at your chance to win a new, free copy (my personal copy is pictured) and enrich your prayer life and your relationships with your children.
The 30 Day Praise Challenge for Parents Book