The truth about life is…it's hard. One theme of 2016 I've heard repeated is that it was pretty hard on a lot of us. Some folks are just weary from the weight of the year. We've gone through rough patches of all different sorts.
UPDATE: The winner of the Ann Voskamp The Broken Way study pack is…SUSAN LANDRY! Congratulations, Susan!
For me, it was a year of change, excitement, and then some hard stuff. My sweet girl graduated from high school and we spent months buzzing with anticipation of graduation, soaking up all the high school "lasts" (last Prom, last Homecoming…). Then the graduation itself and planning her party. It was so good.
And when she moved to college, I thought I'd never recover. It felt like having open-heart surgery with no anesthesia. Fortunately, my lovely child has kept in close touch and my heart is changed but healing.
As 2016 wraps up, I look back at all the good stuff and blessings. The bad stuff–like family betrayal, being the topic of untrue gossip, and being taken sorely advantage of by someone we tried to help–tends to overshadow the blessings.
I allowed myself to wallow in some of the garbage for awhile. And I probably will again. We can't all be on top of our game and happy as clams every single day. We're human and things get to us. We have weak moments. Weak days.
A few days ago, I decided that I was allowing the ugliness and worry to consume me. It was by far obscuring my view of the many, many blessings we've received this year…that we receive every day. I won't be robbed of joy this Christmas time. It's an incredibly important time of year for me, one when I enjoy my family, celebrate the reason for the season, and make my kids and husband feel extra special.
I love this season. And I was instead, obsessing over stuff I have little or no control over. The issues…they're just for a season. And as seasons do, they change. And these will be irritations, blips on the radar, things we'll look back on and sigh with relief and thank God for how well they turned out after all.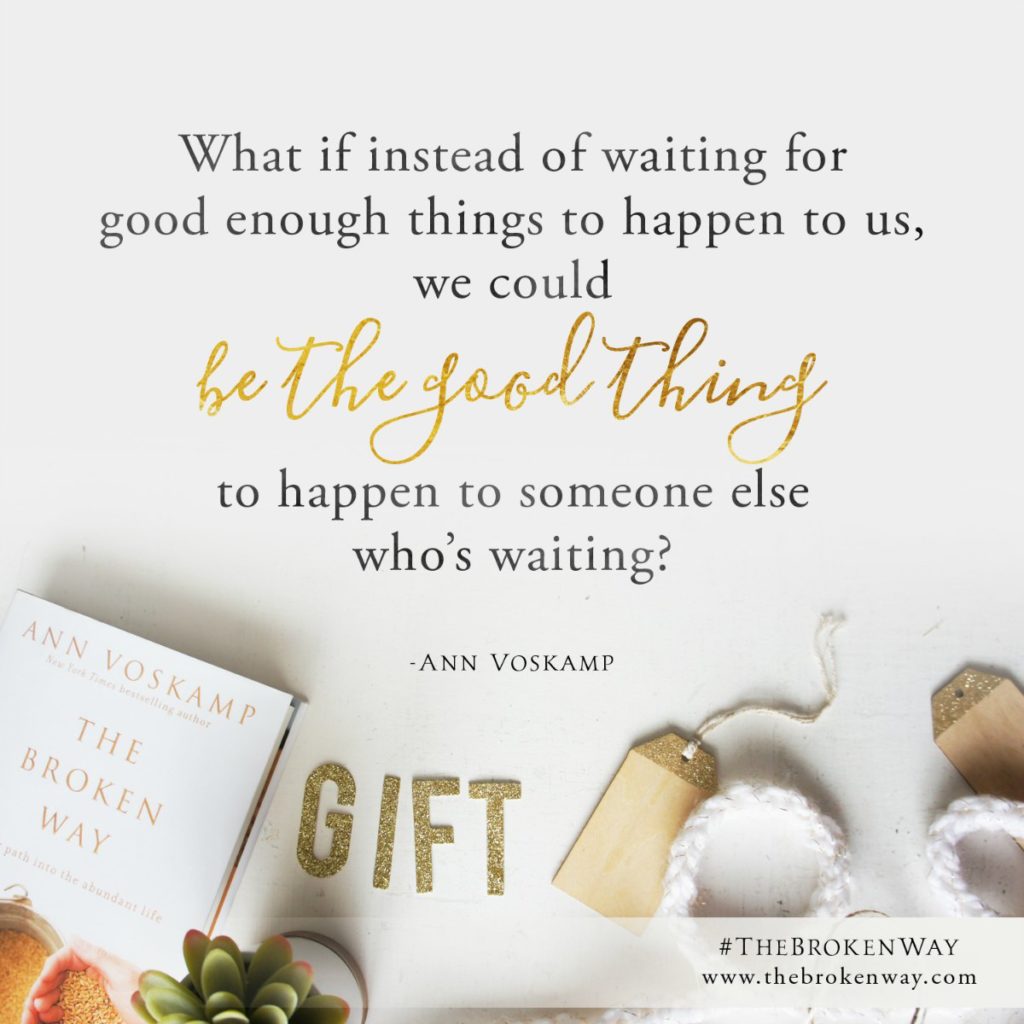 If something or somebody is stealing your joy right now, be encouraged, will you please? Be encouraged. And go encourage others. Treat yourself. Pamper yourself. Let yourself feel the blessings.
I want to bless you. Weeks ago, I did a giveaway for Ann Voskamp's new, amazing book The Broken Way. Today, I want to bless someone with the DVD study pack. Gather some girlfriends or start a study group and use this alongside the book.
If you're not sure what this book is about, I can help with that. I read it and wrote this review so I could share with you why it's such a worthy read.
To enter to win, all you need to do is comment on this post. Wednesday night, December 21st at midnight, the contest will end. I'll announce the winner here and you can also check my Facebook page for updates.
I have one more giveaway for the year which I'll share with you next week, so watch for that too. Then I'll pop all these prizes in the mail for the winners. It'll be a nice New Year's treat for you winners. Enjoy!